Efficiency
When you use Google products, the servers in our data centers do the work for you — around the clock and around the world. Our servers support many products at a time. That's "the cloud." By keeping our servers busy, we can do more with less — more searches, more Gmail, and more YouTube videos with fewer servers and less energy.
We've worked hard to minimize the environmental impact of these services so that when you use our products, you're also being good to the environment.
How we do it
Our data centers use 50% less energy than the typical data center. We raise the temperature to 80°F, use outside air for cooling, and build custom servers. We also share detailed performance data to help move the entire industry forward.

See how we drive efficiency.
How others can do it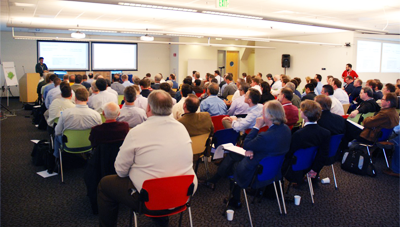 We've learned a lot in over ten years of designing and running our data centers. We've outlined our best practices to help other data centers run more efficiently. We also drive collaboration through industry summits and partnerships.

Read more on what we've learned.
Helping businesses save energy in the cloud
The cloud supports many products at a time, so it can more efficiently distribute resources among many users. That means we can do more with less energy — and businesses can too. Lawrence Berkeley National Laboratory recently published research indicating that moving all office workers in the United States to the cloud could reduce the energy used by information technology by up to 87%.
Related specifically to Google products, by switching to Google Apps (PDF), companies have reduced office computing costs, energy use, and carbon emissions by 65% to 90%. Additionally, businesses that use Gmail (PDF) have decreased the environmental impact of their email service by up to 98% compared to those that run email on local servers.
Because of our energy efficiency efforts, our cloud is better for the environment. This means businesses that use our cloud-based products are greener too.
What others are saying
"Google has one of the largest but also one of the greenest data center infrastructures among the world's companies."
— Datacenter Dynamics
"Google has been an industry leader in releasing information about the energy efficiency and power usage of its data centers, as well as strategies to recycle water to reduce the impact of its facilities on local communities."
— Data Center Knowledge
Read more.