The HALO Trust
Organisation The HALO Trust
Main Website URL www.halotrust.org
Author Luan Jaupi, IT and GIS Desk Officer
Tools Used Google Earth, Google Earth Pro
"Maps and the map-making process – once the property only of geographers and GIS specialists – have now become the property of the masses. Google Earth has become a critical information management tool for the work done by HALO. It is being used every day by the teams in the field, data and operations managers, and decision makers."
- Luan Jaupi, HALO IT and GIS Desk Officer
With the mission of "getting mines out of the ground, now", The HALO Trust is the world's oldest, largest and most successful humanitarian landmine clearance agency, having cleared more than 13 million land mines and other explosive remnants of war. Today, HALO has over 8,000 locally recruited staff. They invest in local leadership, keeping affected communities integral to the process and providing employment in areas that offer few opportunities.
HALO uses Google Earth for minefield survey (the process of identifying and mapping mined areas), data validation, and to produce maps for donors, governments and other NGOs.
How they did it
At The HALO Trust, we use the advanced features of Google Earth Pro to import GIS shapefiles and export high resolution maps, which allows us to produce maps for donor reports, presentations and field operations. The ability to visualise our maps in Google Earth helps us to track mine clearance progress and helps in the prioritisation of the minefields.
We can also use the satellite imagery in Google Earth to help us identify and map the mined areas, such as mined power pylons in Mozambique. Power pylons transporting energy from South Africa to Mozambique were mined during the civil conflict. The mined pylons ran through populated areas and as such, posed a serious threat to locals living nearby. Google Earth was used for the initial mapping of 200 power pylons along a distance of 80 kilometres. HALO staff were able to identify the mined pylons that were clearly visible from Google Earth's imagery. This imagery showed that the area within 20-30 metres from the pylons was not cultivated, suggesting the presence of landmines. Being able to use Google Earth to create this map saved HALO significant time and effort.
Additionally, HALO uses Google Earth to oversee data quality control. Our local staff can collect geographical data in the field using GPS units, such as mine field boundaries, and then that data can be imported into Google Earth and checked for accuracy.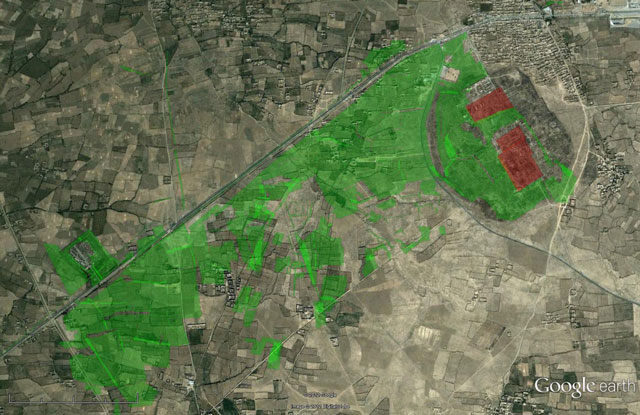 The HALO Trust uses Google Earth to track ongoing mine clearance, plan and prioritise future de-mining projects and visualise the use of cleared areas.
"Google Earth has revolutionised the way we see and browse the world." - Luan Jaupi, HALO IT and GIS Desk Officer
Impact
HALO uses Google Earth because it's an easy, intuitive, user-friendly application that doesn't require IT and Geographical Information System (GIS) skills. It has become an integral part of their GIS and, thanks to a grant from Google Earth Outreach, is now used extensively across 12 different countries.
In addition to using Google Earth in daily operations, HALO leverages Google Earth's historical imagery feature to illustrate clearly the benefits of humanitarian landmine clearance to stakeholders. As is often the case in war-torn countries, minefields and rural communities often overlap. The presence of land mines is not only dangerous to nearby families and farmers, but also keeps villages mired in poverty by preventing them from expanding farms and repairing homes, roads and schools. With the help of Google Earth, The HALO Trust's goal is to remove this barrier to development and help these communities thrive.
HALO uses Google Earth technology to bring efficiency and transparency to mineclearance. Viewers
can take narrated tours
of mine-affected areas of Cambodia and Angola on Google Earth. Watch the Angola tour above and learn how mineclearance helps builds safe, thriving communities.