Mercy Corps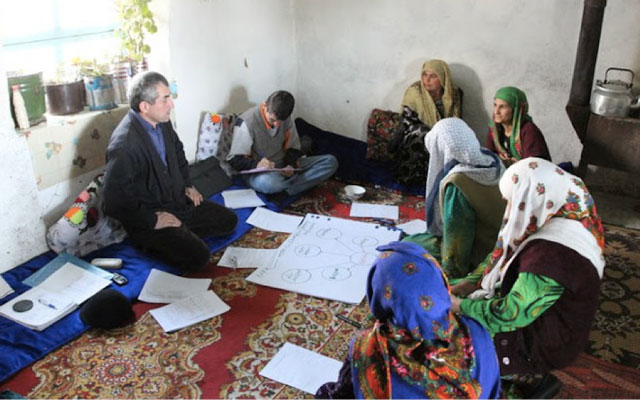 Organisation Mercy Corps
Main website URL www.mercycorps.org
Author Sue Gemmell, Intranet Services Manager
Tools used Google Maps API for Business, Google Fusion Tables
"It's how we work together as a community that really counts"
— Zokasjon Ergaschev, community leader, in an area where Google Maps were used to show partners and donors the community locations of success measures within Tajikistan
Tajikistan is one of the poorest countries in Central Asia and struggles with extreme poverty, corruption and isolation. Mercy Corps' USAID-funded Tajikistan Stability Enhancement Program (TSEP) works closely with community members and local governments in 63 communities to strengthen and stabilise rural Tajikistan. TSEP supports economic and social revitalisation by mobilising communities to address local challenges:
Small-scale infrastructure projects provide vocational training to achieve skills needed for employment, leading to economic growth.
Household food security and budgeting training promotes resilience in times of crisis.
Youth-led management projects challenge young people to make a significant contribution to their communities.
Local government and community leaders build negotiation and mediation skills to advocate on behalf of their constituents and resolve disputes.
Careful monitoring and communication are essential for large and complex programmes involving numerous stakeholders in different parts of the country. For TSEP, Mercy Corps decided to use Google products to create a dedicated interactive website on a secure platform. The website enables programme partners to keep up with current project information and monitor the progress and impact of projects in realtime.
How they did it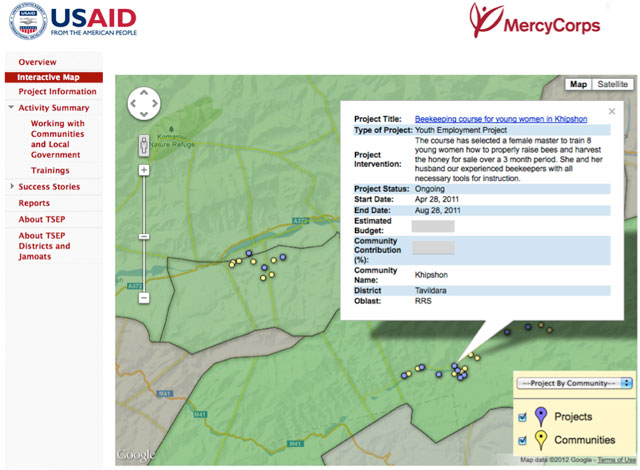 Maps were created using ArcGIS Desktop and then converted from shape files to KML files. The KML files were then stored in Fusion Tables.
The team used Google Sites, JavaScript, Maps API for Business and Fusion Tables to create an internal Monitoring and Evaluation site that tracks programme activities and donor reporting. The site uses the Google Visualization API to generate charts and tables.
The map pop-ups present a summary of individual projects and participating communities. Links in the pop-ups open detailed description pages that are built dynamically by another Google Gadget that draws data from a Fusion Table.
The Google Maps API provides a critical service to Mercy Corps' global humanitarian aid work. Our staff use it – securely – every day on our internal website, The Hub, to stay in touch and obtain office and country information. Our team shares locations of primary and field offices and team member profiles and assignments. Mercy Corps must keep many of these locations and profiles confidential to maintain staff and programme safety. Also, Mercy Corps needs to map offices that are in remote areas with no actual address. Google Maps enables us to do this, while keeping the location confidential.
Our team also uses Google Maps, securely, every day, on our internal website to stay in touch and obtain office and country information.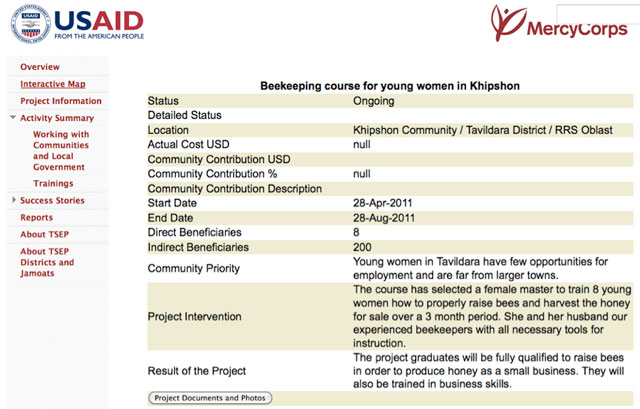 The Monitoring and Evaluation manager in Tajikistan kept information on the site current by uploading spreadsheets to add, update or delete information about communities, projects or incidents and most importantly on updated satellite imagery and road data. Authentication was done via Apps.
The Mercy Corps team produced the complete site in about 40 hours. This fast turnaround time is a dramatic improvement on previous efforts with other software to create similar web-based tools. Mercy Corps developers attribute the success of the TSEP site to the ease with which different Google components can be put together and configured to fit a particular purpose.
"The suite of tools we used worked so well together and building gadgets to extend functionality and glue things together was a snap." -- Mercy Corps developer
Impact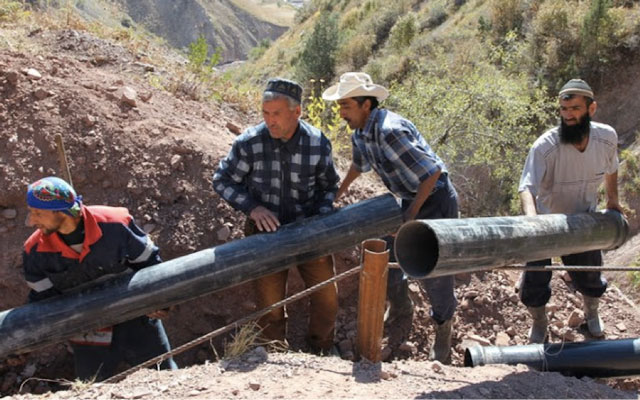 "Not only did we have to walk a long distance and carry the water back, but often the water was dirty, especially in the summer. Before, I had to borrow a donkey from a neighbour and needed help from my oldest son to fill two barrels of water. Now my youngest son can fetch water by himself whenever we need it." - Saidakbar Devlokhov
Mercy Corps is using Google Maps API for Business and related tools to create improved systems for programme management and communication, purpose-built to meet the specific needs of individual programmes. Such tools provide great flexibility and simplify the process of documenting and reporting project information in a timely manner. Programme managers can easily keep programme information current as needed, requiring much less effort than traditional reporting methods. Additionally, when the data is available online, less travel is needed.
Increased use of such tools not only improves project implementation through efficient sharing of critical information, it can also enhance the transparency of programmes and improves the common understanding of project goals and outcomes. This can help strengthen the links between programme partners and encourage increased communication and participation among all involved.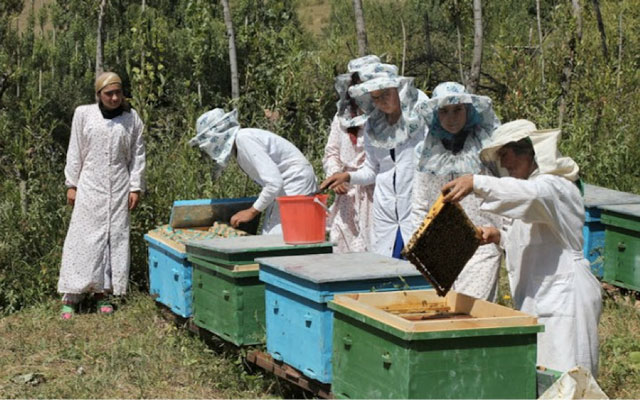 "Our family feels more comfortable knowing that we have enough food. We hope to pass that on to other families." - Zaron Hafizova, project participant
*Tajikistan: Working toward food security and better health: Building a robust infrastructure. Read more