The Jane Goodall Institute
Organisation The Jane Goodall Institute
Main Website URL www.janegoodall.org
AuthorDr. Lilian Pintea, Vice President Conservation Science
Tools Used Google Earth, Google Maps, Open Data Kit
*Note: The Jane Goodall Institute does not endorse handling or interfering with wild chimpanzees.
"The information that the forest monitors are collecting is not just useful for the village. It's actually contributing toward a global effort of monitoring forests and natural resources around the world".
—Dr. Lilian Pintea, Vice President of Conservation Science, JGI
The goal of the Jane Goodall Institute is to preserve African great apes and their habitats, with an emphasis on chimpanzees. To be effective, conservation projects require the best science and data available to design, implement, measure and monitor the success of conservation actions. They also must engage stakeholders in participatory and transparent ways - from local communities to government authorities. The Jane Goodall Institute (JGI) has been using Google mapping tools for many years to do just that.
How they did it
In 2006, the Jane Goodall Institute launched its Gombe Chimpanzee Blog with daily updates from field researcher Emily Wroblewski. Her entries provided a glimpse of chimpanzee field research and an ongoing view of the research programme begun by Jane Goodall in 1960. Since then, the blog has ceased to be supported, but we have turned our attention to other Google mapping tools to help our work in chimpanzee conservation.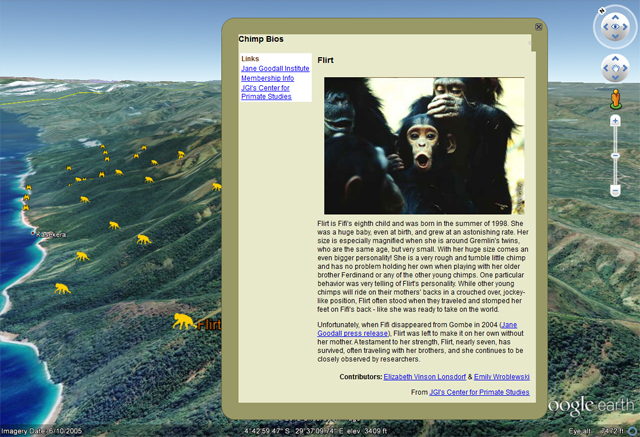 Blog entry by research scientist Emily Wroblewski
We decided to use Google Earth because it presented us with an unprecedented way to bring our potential donors to the places in the world where we work. Google Earth gave us a canvas on which we can vividly illustrate disappearing habitats and the effects of poverty, including deforestation and unsustainable farming - all with the click of a mouse.
"I've been to Gombe, and this weblog is the next best thing to being there. Gombe is a special place to Jane and the staff of JGI, and we are delighted that we can share it 'close up' with the world at large, thanks to Google Earth and our conservation scientists.
- Bill Johnston, President, JGI
Impact
Following the interest and excitement of the Gombe Chimpanzee Blog in Google Earth and the Google Earth narrated tour, the Jane Goodall Institute (JGI) has been using Open Data Kit (ODK), smartphones, tablets and cloud technology to empower local communities to better manage and monitor their forests. One of these programes is our USAID Gombe-Masito-Ugalla REDD Programme in Tanzania to help protect sensitive forest habitat, where chimpanzees live, from further deforestation. The project conserves over 70,000 hectares and allows communities to participate in REDD+ (Reduced Emissions from Deforestation and environmental Degradation). In western Tanzania, with support from USAID, JGI is developing skills, knowledge, ownership and ability to manage land use and monitor Village Forest Reserves using ODK and smartphones in 49 villages. In Uganda and Tanzania, JGI is using ODK and Android tablets to conduct detailed inventory and mapping of privately owned forests and village forest monitoring to support the country's preparedness for REDD. In partnership with Woods Hole Research Centre and support from the Norwegian government, JGI has been applying Google Earth Engine technology to build capacity in Tanzania for monitoring biomass and carbon in dry tropical forests and Miombo woodlands.
"Local communities will be able to interact directly with the global carbon marketplace and demonstrate unequivocally the concrete benefits of their efforts to protect the forest. As a result, local information will directly inform and influence national and global decisions regarding climate change."
- Dr Lilian Pintea, Director of Conservation Science, JGI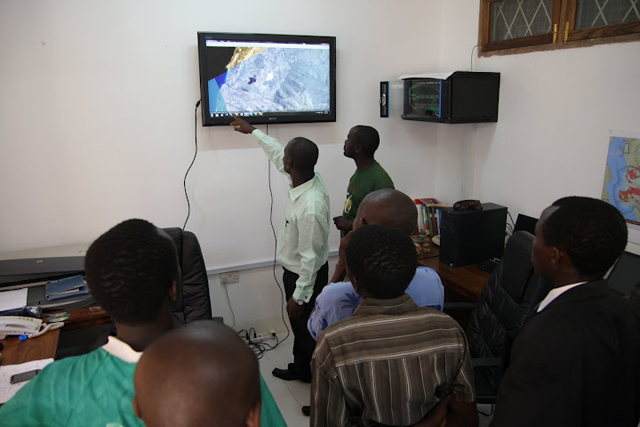 JGI team members using Google Earth during training for collecting data on Android mobile devices with Open Data Kit.