Promoting Your KML
Google Earth offers a venue in which you can tell your story to others. Once you've finished creating your KML or KMZ file, it's important to make sure that you reach a broad audience with your story. In this tutorial you'll learn a few ways to make sure that people can easily find your KML on the web.
Before You Start
You should have a KMZ file ready to post to the web. As mentioned in the tutorial on Packaging Content in a KMZ file, you'll generally want to publish your content as a KMZ file.
Publish Your Content
The first thing to do is make sure your content is publicly accessible on the web and clearly labeled.
Put Your File on the Web
If you don't have a place to host your KMZ file, you can always use Google Sites. In addition to offering online web page creation and editing, Google Sites also lets you upload and host files for free. You can use this service to host your KMZ files as well as any related landing pages, images, SketchUp models, or other files you may need to tell your story.
If you're publishing your content on your own web site, make sure your hosting provider properly supports KMZ and KML file types. This ensures that when users download your Google Earth content, it automatically opens in Google Earth. For more on this topic, consult the KML tutorial.
Make Your KMZ File Accessible on Your Web Site
A lot of the same usability principles that apply to designing your KML also apply to the web page on which you post your KMZ file. In particular:
Choose a descriptive filename, such as SaveMyersPark.kmz rather than gearth0021.kmz
Include the standard KML icon next to the link to your file:
Make it clear that the user needs to install Google Earth in order to view your file, and provide a link to the Google Earth download page
Link to your KML from prominent and frequently updated areas of your site, such as your home page or blog. For a great example of using blogs and Google Earth, check out the Jane Goodall Institute's Gombe Chimpanzee Blog.
Measure the Success of Your Efforts
In preparation for actively promoting your KMZ file, you should consider using web site analytics software to measure the success of your marketing efforts and your Google Earth project as a whole. Just like donors may ask to see reports on what their donations have produced, you should make sure that your time spent with Google Earth is as effective as it can be. Using analytics tools can help you answer a few questions:
You promote your KMZ file many different ways on multiple sites. Which sites are working and raising the most awareness?
Once on your web site, how are people actually finding their way to the page that includes your Google Earth content?
Your KMZ file includes placemarks that link to your web site. How many users are visiting your site to learn more as a result of this?
Once you have answered these questions and defined your goals, you can start refining your approach to maximize the impact of your efforts with Google Earth.
There are a number of analytics solutions out there. Given that you may be operating on a tight budget, consider some of the free analytics options out there. One example is Google Analytics, which is free to set up and includes a number of detailed reports.
Many popular open-source content management systems, such as Drupal and Plone, offer built-in site analytics but also make it quite easy to integrate Google Analytics.
Help Users Find Your KML Using Google Search
Once you've got all of your files on the web, be sure that your content is eligible for inclusion in Google search results.
Submitting your KML or KMZ file once allows users to discover your content in multiple ways. Not only can users find your KML file in regular Google search results, but searches within Google Earth may include individual placemarks from your KML file. For more information on KML files and Google's search offerings, see the KML Reference
You can submit the url of your KMZ file to http://www.google.com/addurl. You'll be asked to fill out a very short form like this: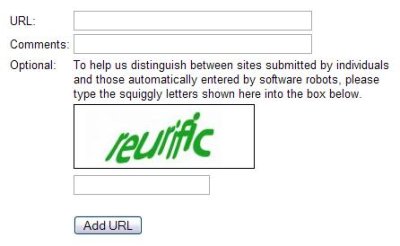 Post Your Content to the Google Earth Community
Users of Google Earth already share and discover content on the Google Earth Community bulletin boards. It's easy to post your content in a few simple steps:
Log in to the Google Earth Community. If you don't already have an account, you can create one here.
From the Google Earth Community home page, select the name of the category that best describes your KML.
Fill out the form for the new post, and then click Continue.
Click Start a new topic in the upper-right corner of the page
If you're uploading a KML or KMZ file, select the file you want to upload.
Click Ok, submit to submit the form.
The Google Earth Outreach Showcase
Google maintains a showcase of high-quality public benefit KML files created by non-profits and others working for the greater good. Entries in this showcase also appear in the more general Google Earth KML Gallery.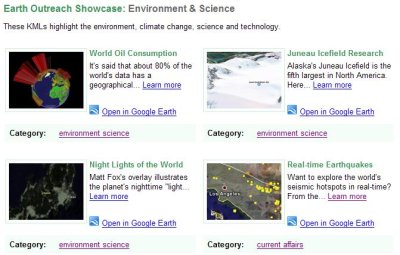 Let Relevant Bloggers Know About Your Content
There are a number of popular blogs that focus on Google Earth and frequently feature interesting content from others. Let the owners of these blogs know about your content. Although they receive many submissions, yours might be one they choose to feature. Here are a few blogs to check out:
Discussion / Feedback
Have questions about this tutorial? Want to give us some feedback? Visit the Google Earth Outreach Discussion Group to discuss it with others.
What Next?
For more tips on distributing your content, see the following tutorial: