Living Oceans Society
Organization Living Oceans Society
Main Website URL livingoceans.org/maps
AuthorCarrie Robb, GIS Specialist and Karin Bodtker, Marine Analyst
Tools Used Google Maps Engine
"Living Oceans Society has put a lot of time and effort into our maps and our different spatial analyses, and it's something that we're quite proud of -- the fact that we can contribute to marine planning and marine conservation efforts using our maps. Google Maps Engine is a great addition to the work that we do, because it helps us to make the information that we compile or the research that we do more accessible to everyone."
— Carrie Robb, GIS specialist
The British Columbia coastline is one of the most beautiful places in Canada. Marine species such as whales, orcas, and salmon come to the blue waters off Vancouver to feast and mate. With the threat of increasing oil tanker traffic, Living Oceans Society is stepping up its efforts to educate BC residents and the industries that operate within BC waters about this fragile habitat, the diversity of marine species that live here, and measures that can be taken to ensure it is preserved.
With a large GIS department relative to its size, Living Oceans Society is a conservation organization that has been producing maps for 12 years to educate the public about critical habitat for marine critters, areas where coastal residents fish and recreate, and areas along the BC coast in need of protection. Interactive maps let users explore important spatial planning issues like the overlap between open net-cage salmon farms and fragile habitats, such as eelgrass. Marine planners and coastal residents can examine the potential impacts of human activities on natural features, as well as on existing recreational and commercial activities. This enables smart, science-based design for a network of Marine Protected Areas, or MPAs. Scientists can study proposed oil tanker traffic routes in relation to existing MPAs and sensitive sponge reefs. Users can also navigate deep into the many inlets and search for Marine Parks that they might approach by kayak.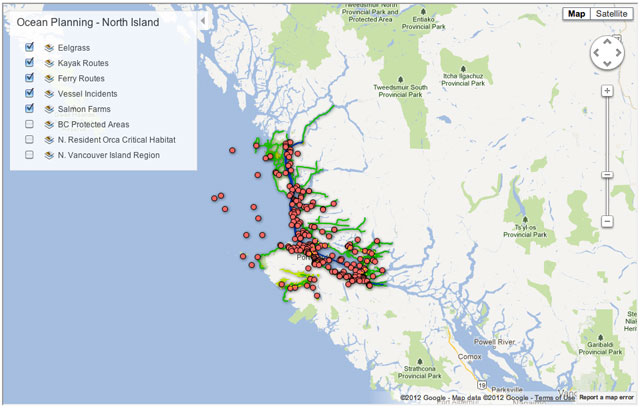 How they did it
Living Oceans Society is participating in marine planning initiatives that are active on the British Columbia coast. Living Oceans Society chose to use Google Maps Engine to be able to quickly and easily bring their GIS data onto their website, to facilitate its use in this planning work. After compiling a variety of relevant datasets, they uploaded their data, styled it, organized the information into maps and then set the access permissions to 'public.' Using the Map Widget, they were able to embed a map showing information specific to Northern Vancouver Island inside their website.
Impact
One key benefit to Living Oceans Society was the ability to share its maps between two offices. With improved collaboration, maps can be delivered to decision-makers and stakeholders, in addition to the general public, in a much more efficient and transparent way. With more and more people having access to the maps online, Living Oceans Society looks forward to being able to produce more high-quality maps and put them into the hands of ocean citizens for better conservation of the British Columbia coastline.