The new Acer Chromebook
No annoying updates. Nothing complicated to learn. No expensive software to buy. Starts in seconds. And comes with all your favorite Google apps. For $259.
For doing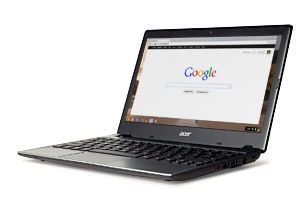 For the best of Google
Your favorite Google products built-in: Search, Gmail, YouTube, and Hangouts. So you can work, play, and do whatever you want, right out of the box. Choose from thousands of free apps and let Chromebook keep it all fresh with automatic updates.
For playing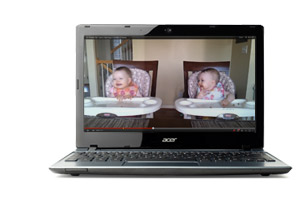 For brilliant detail
Games and videos come alive with its 11.6" ultra-bright screen. You can also connect it easily to external monitors and displays with HDMI and VGA outputs and multiple USB ports.
---
For an easy life
Chromebooks are simple to use and they update themselves. They boot-up in seconds, never slow down and require almost zero setup or maintenance.
For being connected
The Chromebook features dual band Wi-Fi, 12 free Gogo Inflight passes, and offline apps for the rare times when you're disconnected from the web.
For always backed up
Store and access your photos, music, videos, documents and more from anywhere with Google Drive. It's simple. And it's always backed up.
For virus haters
Viruses, malware and other nasties are taken care of. No extra software (or worrying) required.
Key specs
11.6'' screen

1 inch thin / 3 pounds

Up to 4 hours of battery (Varies based on usage)

Boots up in less than 20 seconds

100 GB of Google Drive free for 2 years
Switch to Chromebook
Switching from another system (like Windows or Mac OS)? Get to know Chromebooks and learn how you can do everything you need and love to do.
For schools and businesses
Learn how schools and businesses can easily manage Chromebooks to improve collaboration.
Stay informed
Receive Chrome device updates, promotional offers and other related news.