Connect with your customers on smartphones and tablets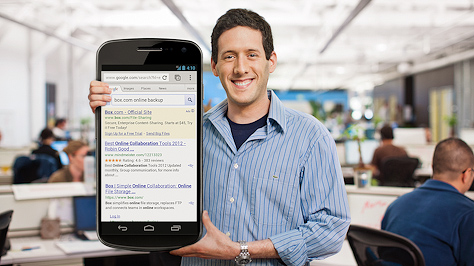 Mobile search ads accounted for 36% of our overall conversions from Google AdWords in just one month.
Reach audiences on the move with Google Mobile Ads
Google Mobile Ads appear on mobile devices in Google search results, on content websites and in apps. Use them to put your business in front of people as they use their phones and tablets throughout the day.
Improve your performance. Get more new customers, leads or conversions and reach more mobile users. Learn more
Build your brand. Make an impact with engaging, interactive, rich-media display ads on smartphones and tablets. Learn more

Enhanced campaigns. Marketing for a constantly connected world.
Enhanced campaigns help businesses reach people in the moments that matter across all devices with smarter ads that are relevant to their intent and context. Learn more.

Does your website work on mobile?
Find out why a mobile site matters and how to get one at howtogetmo.com. See what your site looks like on a mobile device with the Mobile Meter and find a list of developers to help you build your mobile site.

Smartphone data at your fingertips
Our Mobile Planet is a new website with an interactive tool that lets you create custom charts to help you understand smartphone consumers and develop your mobile strategy. You can research data from 30 countries.
Publishers, make money from your mobile web traffic
If you're a web publisher, you can make money from the mobile traffic that you get on your site. Show targeted mobile ads from Google's advertisers to your users with Google AdSense. Go to the AdSense site to learn more.
App developers, learn how to build a great app business
If you're an app developer, you can make money on different platforms and promote your app to new users with AdMob by Google. Go to the AdMob site to learn more.
News from the Google Mobile Ads Blog
For the latest Google Mobile Ads news, follow us on our blog.