St. Ghislain, Belgium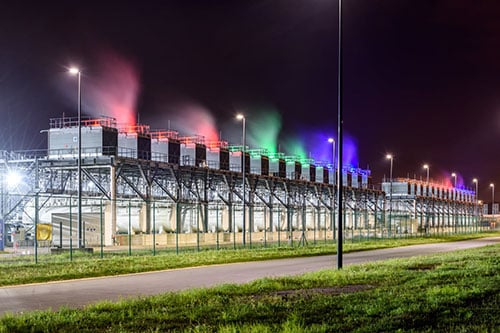 A view from the top
A sunset over Saint Ghislain, Belgium illuminates our water storage tanks and cooling towers.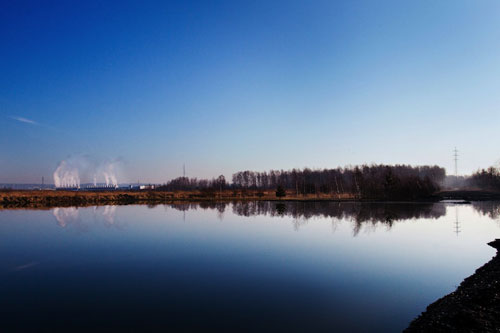 Cooling with canal water
Located in the Walloon region of Belgium, this data center uses recycled water from a nearby industrial canal to cool its servers, eliminating the need for refrigerated cooling and making it highly energy efficient.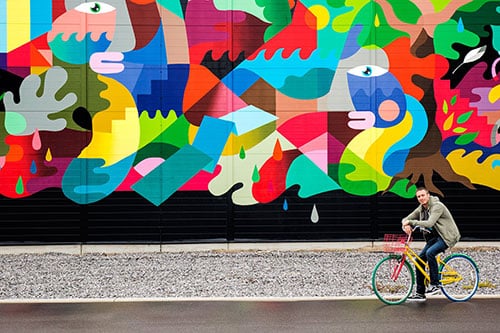 A taste of local culture
The theme of the data center in St. Ghislain is "Belgian beers," with different conference rooms named after brands of beer popular in the region.
Google is proud to call Belgium home to one of our data centers.
In April 2007, we announced that we would invest €250 million in building an energy-efficient data center near the towns of St. Ghislain and Mons in Belgium.
The facility, which became fully operational in September 2010, now serves Google users across Europe and around the world. It was the first Google data center worldwide to run entirely without refrigeration, using instead an advanced evaporative cooling system that draws grey water from a nearby industrial canal. This helps keep our computers running at their highest efficiency and reduces overall energy use.
Construction of the datacenter lasted just over two years. More than 2,000 individuals working for 85 companies (mostly Belgian) contributed to the project.
On this site, you can meet some of our employees or visit the St. Ghislain data center photo gallery. We greatly appreciate the welcome we've had here, and we're honoured to be part of the local community.
Why did Google choose St. Ghislain?
St. Ghislain has the right combination of energy infrastructure and developable land. The local authorities also have a strong vision for how the Internet can bring economic benefits and jobs to the area. The Digital Innovation Valley project has created a cluster of high-tech businesses and put technology at the heart of the education system. As a result, we had a great team of people supporting investment in the area who were very helpful during our site selection process.
Who do I contact for more information?
For community-related inquiries, email stghislain@google.com. If you are a member of the media, please contact press@google.com.
For more answers to our most frequently asked questions, visit our FAQ section.
Related sites
Google Green
Learn more about Google's environmental initiatives.
Story of Send
Take a journey through our data centers by following an email along its path.
Chrome themes
Customize your Chrome browser with Google data center themes at the Chrome Web Store.