Mayes County, Oklahoma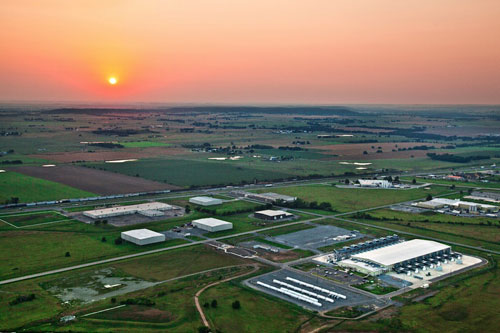 An aerial view
A sunset highlights the beautiful landscape surrounding our Pryor, Oklahoma data center.
Our cooling towers
Bright lights and the moon light light up our Mayes County data center. These units provide cooling for a portion of the center.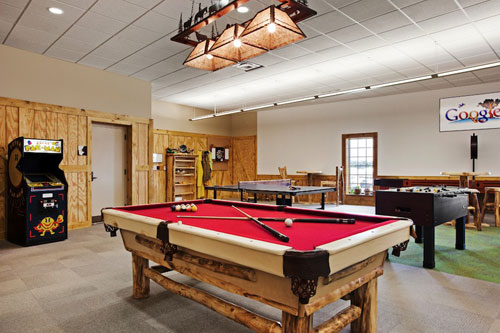 A taste of Oklahoma
The data center interior reflects local Okie culture, with the name spelled out in barbed wire outside, employees dressed as cowboys in photos, and a mechanical bull. It even has its own mascot roaming the grounds, a one-eyed dog named Miss G.
Google is proud to call Oklahoma home to one of our data centers.
In 2007, we announced plans to construct a data center complex in Mayes County, Oklahoma. Then in 2012, 2015, and 2018, we announced expansions of our local data center facilities. Over time, we've invested over $2.5 billion and have established a long-term commitment to the region and state. Now a fully operational site, we've created over 400 jobs on site, and we work hard to support the communities in which our employees live and work.
Since 2011, we've awarded more than $2 million in grants to Oklahoma nonprofits and schools in areas that we're passionate about, including science and technology education, carbon reduction, and access to the Internet.
Meet some of our employees and see how we're giving back to the community.
Why did Google choose Mayes County?
Mayes County has the right combination of energy infrastructure, developable land, and available workforce for the data center.
Who do I contact for more information?
For community-related questions, email mayescounty@google.com. If you're a member of the media, please contact press@google.com.
For more answers to our most frequently asked questions, visit our FAQ section.
Related sites
Google Green
Learn more about Google's environmental initiatives.
Chrome themes
Customize your Chrome browser with Google data center themes at the Chrome Web Store.